Find a different pairing
Montepulciano d'Abruzzo
Montepulciano d'Abruzzo comes from, as the name suggests, the central Italian region of Abruzzo. It is made from the Montepulciano grape. The grape gets its name from the Tuscan town of Montepulciano. However, the two are hardly connected now. Montepulciano grapes used to be commonly planted around the town but, today, Sangiovese has taken over. Be sure not to get confused between a Sangiovese from the Montepulciano area in Tuscany and a Montepulciano d'Abruzzo.
Montepulciano d'Abruzzo proves a good pairing for sausage pasta dishes, especially any made with fennel sausage or smoky sausage. This medium-bodied wine tends to have medium to high tannins, moderate acidity and be quite dry with a rich mouthfeel. It has a combination of darker fruit flavours such as plum and blackberry along with spice and pepper notes. Some Montepulciano d'Abruzzo have a smoky sweet finish, which would pair really well with any smoked sausage dishes.
la chiamata montepulciano d'abruzzo 2018
If you want to give Montepulciano d'Abruzzo a try with your next sausage pasta, we reccomend La Chiamata Montepulciano d'Abruzzo 2018. This wine is an excellent example of its type, with moderate tannins and acidity with a beautiful ruby red colour. On the nose, you'll find plum and cherry notes with a subtle floral hint. On the palate, this wine has a silky texture with red fruits (cherry and cranberry), spicy notes and a hint of oak.
Serves: 4
Cooks time: 1 hour 10 mins
Difficulty: easy
Serves: 4
Cooks time: 15 minutes
Difficulty: Easy
Serves: 4
Cooks time: 50 minutes
Difficulty: Medium
Pasta delivered to your door
Fresh Pasta Recipe Boxes
From unbeatable classics like ragù alla bolognese to coastal delicacies and fresh takes on old favourites, we offer a range of heavenly pasta dishes on our weekly menu. All of our fresh pasta, sauces and garnishes are delivered across the UK and can be prepared at home in minutes.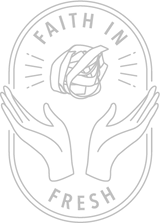 LOVE IT. UNASHAMEDLY TOP-END.
PRUE LEITH
C.B.E. & GBBO JUDGE