The Pasta Evangelists story
When we started Pasta Evangelists, we wanted to show that there is so much more to pasta than meets the eye.
About Pasta Evangelists
Pasta makes everything feel better. So why not make pasta taste better? Inspired by this simple mission, our founder Alessandro set out to bring the freshness and quality of the freshly made, pastificio-style pasta he grew up making by hand with his nonna in Italy to British kitchens.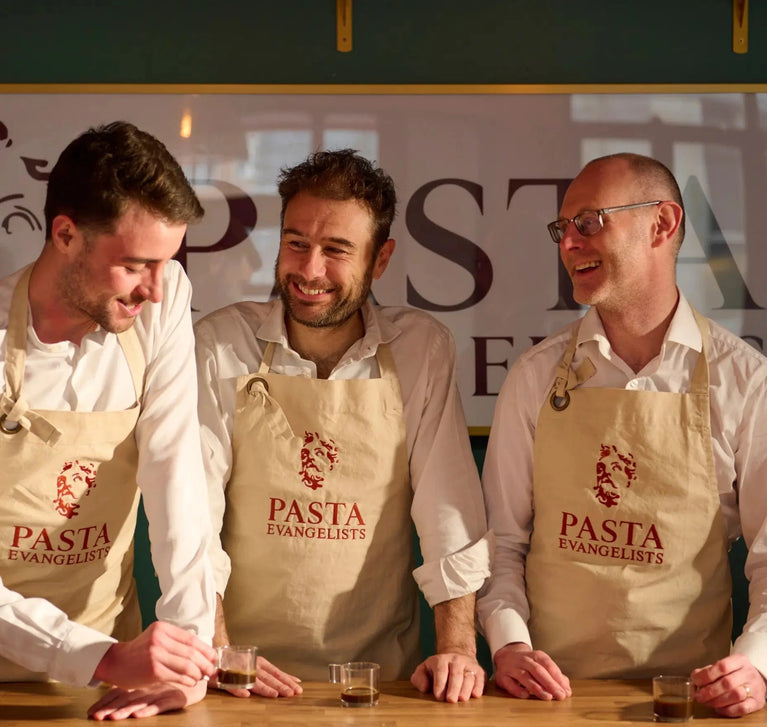 Explore our favourite recipes
Our pasta
Pasta has been freshly made on the Italian peninsula for hundreds, if not thousands, of years. Chef d'Elia honours this tradition by preparing our fresh pasta artisanally, using the finest Italian flour and finishing some of our favourite shapes, tortelloni for instance, by hand. No one piece is quite like another.
"Altro il vino non è se non la luce del sole mescolata con l'umido della vite."
"Wine is nothing but sunlight mixed with the humidity of the vine." Although Galileo was talking about viniculture, his quip reminds us of the centrality of nature, and the quality of its produce, in the most beautiful moments of life. Selecting the best ingredients and treating them with respect is the guiding principle of Pasta Evangelists Executive Chef, Giancarlo Perbellini.
Our ingredients
Chef Perbellini and his team use ingredients of the highest calibre to prepare our dishes. Where possible, we source from local producers here in the UK. That said, there are some questions in gastronomy to which Italy alone has an answer, meaning some products are judiciously sourced from il bel paese to bring you the very best.