Find a different pairing
Fiano
Fiano is commonly grown in southern Italy, particularly in Campania. Fiano is a dry white wine that is light to medium bodied. In the 19th century, phylloxera devastated Fiano vineyards to the point the grape was nearly forgotten until the 1970s and 1980s when it made a comeback. Fiano is greatly impacted by its growing conditions, including the type of soil and the climate. Therefore, you will see quite a bit of variation in Fiano wines depending on where and how they are produced.
Fiano's characteristic nutty, floral and honey notes along with slight spice and tropical fruit flavours make it a perfect pairing for salmon pasta dishes. In addition, its crisp acidity makes it a perfect pairing to serve with salmon, which has a richer texture than other types of fish. We also recommend waiting a couple of years before enjoying your Fiano as it improves with some time in the bottle. When you're ready to crack open your Fiano, be sure to serve it chilled.
rocca del principe fiano di avellino
We recommend Rocca del Principe's Fiano di Avellino if you're looking to serve Fiano with your salmon pasta. This wine comes from Campania and is dry with fruity and floral notes on the nose. It is fermented in steel tanks on lees for ten months. Prior to fermentation, it has some contact with the skins, leading to a deep, golden yellow colour. It will pair beautifully with salmon.
Serves: 2
Cooks time: 30 minutes
Difficulty: Easy
Serves: 2
Cooks time: 75 minutes from scratch
Difficulty: Easy
Serves: 4
Cooks time: 70 minutes from scratch
Difficulty: Medium
Pasta delivered to your door
Fresh Pasta Recipe Boxes
From unbeatable classics like ragù alla bolognese to coastal delicacies and fresh takes on old favourites, we offer a range of heavenly pasta dishes on our weekly menu. All of our fresh pasta, sauces and garnishes are delivered across the UK and can be prepared at home in minutes.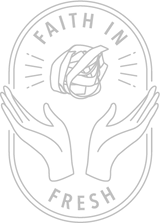 LOVE IT. UNASHAMEDLY TOP-END.
PRUE LEITH
C.B.E. & GBBO JUDGE