Find a different pairing
Soave
Soave is a white wine produced in the northern Italian region of Veneto, particularly around the area of Verona. Garganega is the primary grape of Soave but there are a variety of other grape varietals used in this wine, including Trebbiano di Soave, Chardonnay and Pinot Bianco. While the popularity of Soave is on the rise, it is still often overlook. Therefore, we think it is quite easy to find a delicious Soave at a very affordable price. There are two main types of dry Soave wines, those that are made in stainless steel tanks and do not see any time in oak and those that are aged in wooden barrels. The first is lighter and fruitier. The latter is slightly more complex with a creamier texture.
grape:
Garganega, Trebbiano di Soave, Chardonnay
Soave is commonly paired with seafood as it has a smooth oily richness and a palate that is fruity with a hint of salinity. Both Soave made in stainless steel tanks and Soave aged in wooden barrels will work with shellfish pasta dishes. We recommend trying both styles and deciding which you like best for yourself and which pairs best with your pasta dish.
pieropan soave classico doc
We recommend trying the Pieropan Soave Classico DOC with your next dinner of shellfish pasta. This Soave has a blend of Garganega and Trebbiano di Soave grapes, with the Trebbiano di Soave grapes being picked first in mid-September and the Garganega being harvested later in October. Dry but with bright acidity, the Pieropan Soave is an exemplar of this type of wine.
Serves: 2
Cooks time: 70 minutes from scratch
Difficulty: Medium
Serves: 4
Cooks time: 75 minutes from scratch
Difficulty: Medium
Serves: 4
Cooks time: 20 minutes
Difficulty: Easy
Pasta delivered to your door
Fresh Pasta Recipe Boxes
From unbeatable classics like ragù alla bolognese to coastal delicacies and fresh takes on old favourites, we offer a range of heavenly pasta dishes on our weekly menu. All of our fresh pasta, sauces and garnishes are delivered across the UK and can be prepared at home in minutes.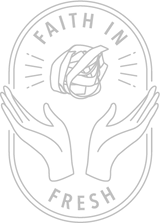 LOVE IT. UNASHAMEDLY TOP-END.
PRUE LEITH
C.B.E. & GBBO JUDGE