Find a different pairing
Nebbiolo
Nebbiolo, with its high tannins and full-bodied nature, will pair well with meaty beef pasta dishes. In particular, fatty meat dishes will work well as the fat content will balance Nebbiolo's strong tannins. It is the primary grape used in Barolo and Barbaresco wines but is a red wine in its own right.
regions:
Piedmont, Lombardy
Nebbiolo varies depending on where it is grown and the winemaking choices. However, it generally has high tannins and high acidity, making it a wine to enjoy alongside food. This combo in particular, along with the characteristic rose, cherry, leather and anise notes present in Nebbiolo, will work very well with beef pasta dishes such as a meat ragù or a meat filled pasta. Interestingly, Nebbiolo is known to have an aroma of tar and roses. While this may seem like a strange (and unappealing) combination, we urge you to imagine how this would pair with the scent of a meaty ragù wafting up from your plate. Give it a try and let us know.
langhe nebbiolo 2019 de forvile
This Nebbiolo comes from the De Forville winery in central Piedmont. This wine has a ruby colour and wonderful aroma of red fruits and slight spicy notes. It spends time on oak, leading to a depth of flavour on the palate which includes red fruit (cherry and raspberry), leather, vanilla and a hint of smokiness. Compared to other Nebbiolo wines, it has moderate tannins so can be enjoyed now, as opposed to needing some aging.
Serves: 4
Cooks time: 1 hour 10 mins
Difficulty: easy
Serves: 4
Cooks time: 5 hours
Difficulty: easy
Serves: 4
Cooks time: 1 hour
Difficulty: easy
Pasta delivered to your door
Fresh Pasta Recipe Boxes
From unbeatable classics like ragù alla bolognese to coastal delicacies and fresh takes on old favourites, we offer a range of heavenly pasta dishes on our weekly menu. All of our fresh pasta, sauces and garnishes are delivered across the UK and can be prepared at home in minutes.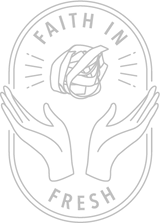 LOVE IT. UNASHAMEDLY TOP-END.
PRUE LEITH
C.B.E. & GBBO JUDGE