Find a different pairing
Cortese di Gavi
This dry white wine is produced in southeastern Piedmont, specifically in the Province of Alessandria where the comune of Gavi is located. Cortese di Gavi was first given DOC status in 1974. Some confusion exists around the differences between Cortese di Gavi, Gavi and Gavi di Gavi wines. Cortese di Gavi, or simply Gavi, wines are produced in the DOC zone. These are made with the Cortese grape. Gavi di Gavi wines use Cortese grapes sourced from the commune of Gavi specifically. Therefore, all Gavi di Gavi wines fall under the umbrella of Cortese di Gavi wines but the reverse is not true as Gavi di Gavi is more restrictive classification. However, this doesn't mean that one is more or less desirable than the other. There are really delicious, and affordable, wines from the comune Gavi and further afield in the Province of Alessandria within the DOC zone.
This luscious white wine produced in Piedmont is light and fruity. It is very dry with bright acidity, a combination that is perfect to serve with basil pesto pasta. The lemon, apple, honeydew and almond notes create a complex palate that will balance out the basil, pine nut and cheesy nature of pesto. Cortese di Gavi wines are best enjoyed young and chilled.
la smilla gavi di gavi
We recommend La Smilla Gavi di Gavi as it is an example of a complex Gavi wine with bright acidity and a complex palate. La Smilla, led by Danilo Guido, source Cortese grapes from within the comune of Gavi for this wine, giving it the classification of Gavi di Gavi. With a palate of lime, tropical fruits and honey along with a hint of stony minerality, this wine is sure to be excellent alongside your next bowl of basil pesto pasta.
basil pesto Pasta Recipes
Serves: 4
Cooks time: Miscellaneous
Difficulty: Easy
Serves: 4
Cooks time: 40 minutes
Difficulty: Easy
Serves: 4
Cooks time: 2 hours from scratch
Difficulty: Medium
Pasta delivered to your door
Fresh Pasta Recipe Boxes
From unbeatable classics like ragù alla bolognese to coastal delicacies and fresh takes on old favourites, we offer a range of heavenly pasta dishes on our weekly menu. All of our fresh pasta, sauces and garnishes are delivered across the UK and can be prepared at home in minutes.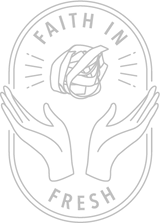 LOVE IT. UNASHAMEDLY TOP-END.
PRUE LEITH
C.B.E. & GBBO JUDGE